22nd Annual
NFHL Fall Championship
SAVE THE DATE
November 23-24, 2019
Virginia Beach Sports Complex
Virginia Beach, VA
CONGRATULATIONS TO UNC Chapel Hill!
2018 FALL CHAMPIONSHIP CHAMPIONS!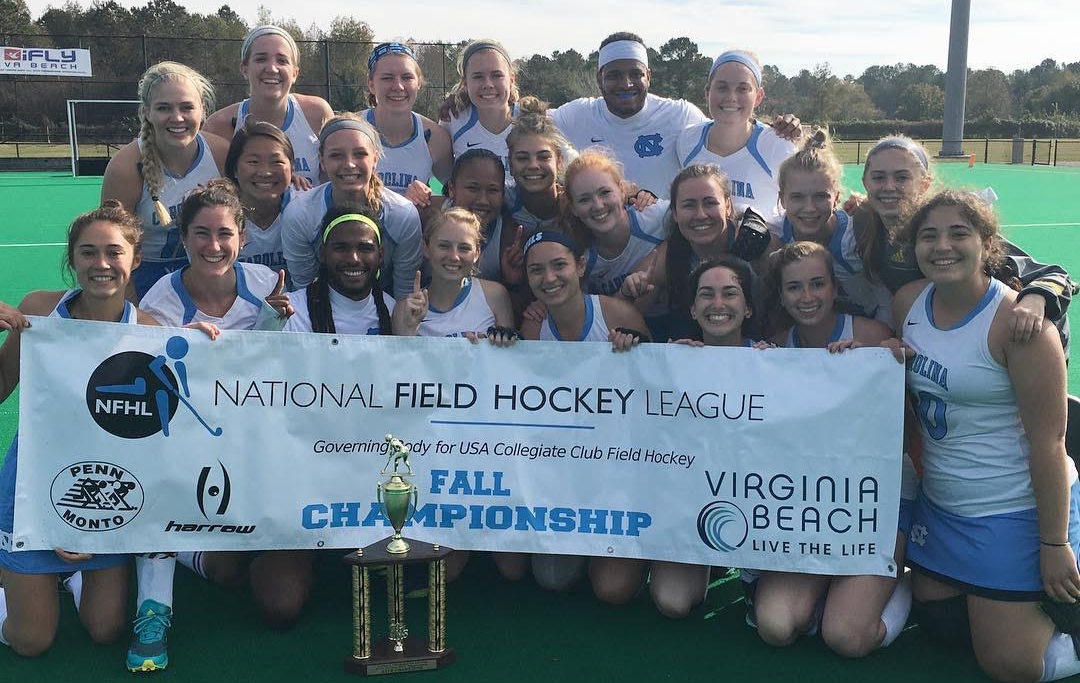 Interested in Becoming a Tournament Sponsor?
Fall Championship Requirements
Teams must be able to send a full team to the Championship (11 players minimum).
Teams must be available to play from 7am-8pm on Saturday AND from 7am-2pm on Sunday.
ALL teams must RSVP (top 16 teams and alternates) by the deadline (TBD).
Schedule
The schedule will be released by November 11th (subject to change).
All teams are required to be available to play between 7am-8pm on Saturday AND 7am-2pm on Sunday.
Sometimes games need to be switched and rearranged – we need you to be flexible, patient, and open-minded.
Teams must bring light and dark colored shirts/jerseys.
Pre-Order Tournament Shirts
All shirts MUST be pre-ordered online will be available for pickup at the Registration Table at the tournament.
We cannot ship shirts.
Shirts must be ordered by Monday November 11th.
All Stars
All Stars at the tournament will receive a free tournament t-shirt. T-shirts must be picked up at the Registration Table before 12pm on Saturday.
All Full Member teams (even those not attending the tournament) will still submit the names of their top 2 All Stars and their names will be posted on our website.
Rosters
Teams need to bring a copy of their complete roster to the tournament and submit it when they register.
Rosters must be signed by the school's Club Sports Recreation Department to verify that all players are allowed to play on the team.
Please use the NFHL Roster Form.
Directions and Field Information
Virginia Beach Sportsplex | Website: www.beachsportsplex.com
2181 Landstown Road, Virginia Beach, VA 23456
Turf shoes only – NO spiked cleats
Free parking is available for all teams and parents
Fans
Teams are allowed to have as many fans as they like attend the tournament.
Free admission and parking for all fans.
Please keep your fans updated if any changes are made.
All fans are required to abide by all NFHL and Sportsplex rules.
Fans who are disruptive and do not abide by the misconduct rules will be removed from the tournament and will jeopardize their's teams entry in the tournament.
We take this VERY seriously!
Hotel Blocks
Special NFHL rates for players and fans
Hyatt Place Virginia Beach Town Center
335 Independence Blvd
Virginia Beach, VA 23462
757-431-7000
$115/night plus tax – 2 queen beds plus sofa sleeper (sleeps up to 6 people).
Rates guaranteed for reservations made by November 8th, 2019.
BRAND NEW hotel! Free parking.
Free HOT breakfast included! Hours: 6:30am-9:30am.
Located in Town Center of Virginia Beach – with several restaurants, retail stores, and entertainment – all within walking distance!
15 minutes from the fields.
Book Online Here
Use corporate code G-HOCK or call 888-591-1234 or 757-431-7000 and ask for the "National Field Hockey League November 2019″ rate. Only 2 rooms per reservations can be booked online. You may submit multiple reservations if you need more than 2 rooms.
Hampton Inn Virginia Beach-Oceanfront South
1011 Atlantic Avenue
Virginia Beach, Virginia, 23451
(757) 965-2300
Oceanfront hotel! 15 minutes to the fields
$119 per night (2 queen beds) plus tax
Includes free breakfast
Teams who have buses or vans MUST contact Connie Nosay in advance (757-321-8340)
$25 per day fee for bus parking, free parking for vans
Hilton Garden Inn Town Center
The Town Center of Virginia Beach
252 Town Center Dr.
Virginia Beach, VA
(757) 326-6200
$104 per night (1 king bed) or $124 per night (2 queen beds) plus tax
Includes free breakfast (if the reservation is made through link)
Located in Town Center – very walkable area with shops and dining!
15 minutes to the fields
Food
Outside food/beverages will NOT be allowed on the premises.
Boxed lunches will be coordinated with the Sportsplex and will be delivered to the field.
Order Boxed Lunches Here
Deadline to order is Monday November 11th.
Weather / Cancellations
We can never predict the weather.
We may need to rearrange games and/or restructure the format of the tournament in extreme weather.
Kristin will keep all teams informed of any changes via email – please check your emails on a regular basis!
Please be flexible – it's up to you to make this tournament fun and successful.