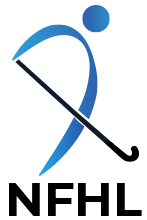 HISTORY: In the summer of 1997, a group of college club field hockey teams came together to formulate the first collegiate club league. The National Field Hockey League (NFHL) was established in August 1997. The impetus for its creation was to develop a competitive hockey environment, and more importantly, create structure within the field hockey club division. Many colleges were having difficulty finding playing facilities, officials, and opponents to play. With the creation of the NFHL, participating college teams can work together to create season schedules, find playing facilities, and sign qualified officials for each game. We hope that by creating this league we will be able to work together and progress as a strong force in the field hockey arena.
Mission: The mission of the National Field Hockey League is to promote and grow the sport of field hockey by providing a member-centered governing structure for club teams, improving access to competitive play, facilitating educational trainings, and building community.

The National Field Hockey League is a registered 501(c)(3) organization.